Airport Ljubljana taxi
CHEAP AIRPORT TAXI TRANSFER - TIMA TAXI LJUBLJANA, SLOVENIA

We are the cheapest van service in Ljubljana - we offer cheap transfers to / from Airport Ljubljana - airport Brnik - airport Joze Pucnik.
We are friendly well - run transfer company who offers city and airport transfers, we also offer van transfers and transfers for groups.

Whether you are travelling on business or pleasure, we trust that we will be able to provide the right service for you, taking into account your destination in comfort and style.
 


Individual VIP transfer from/to Airport Ljubljana to Ljubljana 25 Eur
Taxi from airport to Ljubljana
+ 386 41 755 539 Renata   + 386 41 606 716 
airportbrnik@gmail.com
Prices for some destinations 
Individual VIP taxi transfer transport  ( 4 persons ) 
AIRPORT LJUBLJANA TAXI TRANSFER PRICE LIST :
Ljubljana    - Airport Ljubljana               25 EUR

Ljubljana - Airport Ronchi ( IT )   125 EUR
Ljubljana - Airport Venecia ( IT ) 200  EUR
Ljubljana - Airport Marco Polo     200  EUR

Ljubljana - Airport Zagreb ( HR ) 120 EUR
Ljubljana - Airport Klagenfurt ( A ) 80 EUR

Airport Ljubljana Bled 60 Eur
Airport Ljubljana Celje, Velenje 75 Eur
Airport Ljubljana Novo Mesto, Otočec 80 Eur
Airport Ljubljana Kranj 30 Eur
Airport Ljubljana Vrhnika 35 Eur
Airport Ljubljana Maribor 120 Eur
Airport Ljubljana Portorose, Piran, Koper, Isola 130 Eur

Services : - VIP transfer from Ljubljana Airport, individual taxi transfer  from Ljubljana to the airport -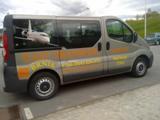 TRANSFER FROM / TO  LJUBLJANA AIRPORT
TAXI AIRPORT LJUBLJANA
TAXI AERODROM LJUBLJANA
LJUBLJANA SHUTTLE TRANSFER
VIP TAXI LJUBLJANA AIRPORT